Basic CNC Router: Frequently Asked Questions from Buyer | FAQ
We usually receive a lot of enquiry from buyers who are looking for a basic cnc router and they usually ask several same questions. I summarize these details here, and we hope to bring you some help. Please note: basic cnc router, regular cnc router or standard cnc router means the 3 axis model with single head and without tool changer.


1. How much cost is a regular cnc router?
The price range is from USD4600 to USD10000 according to the different size of the machine as well as different configurations.
2. What is the machining accuracy of standard cnc router?
Accuracy requirement for basic models is less than 0.15mm/100mm. Equipments from different factories may have different accuracy. Because the processing accuracy of equipment mainly depends on three aspects: the processing technology of mechanical structure (machining accuracy of the mounting basal plane), the quality of purchased parts (the precision of linear guides) and the assembly level of the full machine (the skills of the assembly workers). All EagleTec basic type cnc router machines accuracy are qualified less than 0.15mm /100mm.
3. What is the Max.Working speed of machine?
Working speed is depend on the performance of the machine and the material to be processed. Even if the same machine, the maximum speed is also different in the process of machining different materials. We can check the maximum no-load speed to understand the speed performance of the machine. Maximum no-load speed range of regular cnc router with stepping is from 25,000mm/min to 35,000mm/min. Basic models are generally equipped with 450B models of stepper motor, but the drivers has more variety. Leadshine MA860H, YAKO2608 and YAKO2811 drivers are widely used on standard models. Drivers with high voltage can make machine faster. So machine with 2811 drivers can reach 35m speed, while machine with 860H or 2608 drivers only reach 25m.
4. Is there a dust extractor for the working debris?
Basic models can be equipped with a industrial dust collector. It is an optional device for users. Please choose it according to your requirement or preference.
5. What about the working table of basic cnc machine?
There are totally three kinds of working table for regular machine: aluminum profile with T-slot table, regular vacuum table and T-slot vacuum table.
Aluminum profile table with T-slot: the material is fixed by clamps.
Regular vacuum table and T-slot vacuum table: material can be fixed by vac-sorb as well as clamps. Please choose the right way according to your requirement or preference.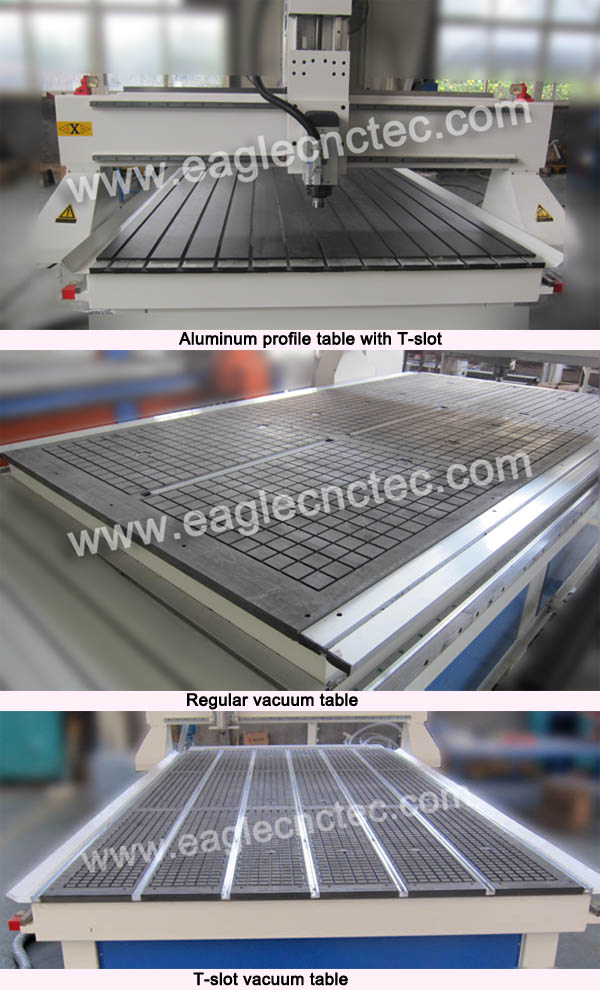 Any question, please feel free to contact.
Original article from Jinan EagleTec CNC Machinery Co.,Ltd.
Repost please indicate the source.
【 Go Back 】 | 【 Print 】 | 【 Close this window 】